SERVPRO of Central Tulsa Offers Comprehensive Mold Damage Cleanup
6/8/2022 (Permalink)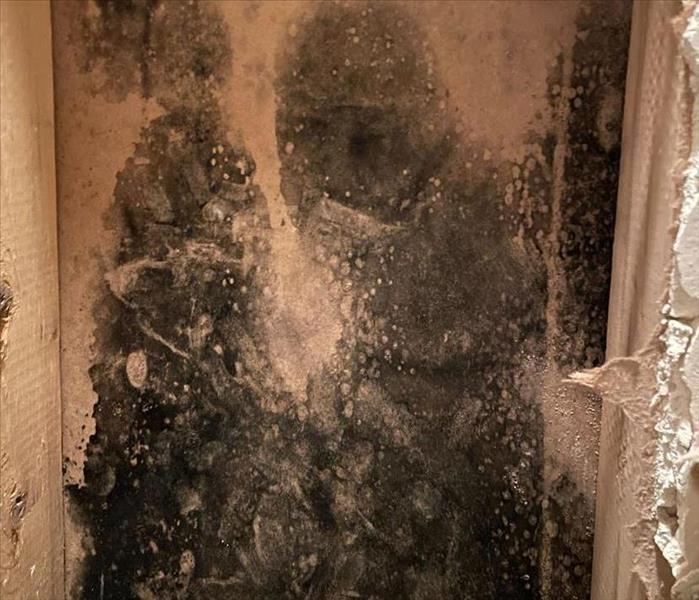 Mold remediation and cleanup in Central Tulsa needed? SERVPRO provides solutions, "Like it never even happened."
Where Can Tulsa Homeowners Get Safe Mold Remediation?
Home mold DIY cleanup for Tulsa properties can seem feasible at first. However, mold growth on surfaces like drywall and fibers indicates larger microbial clusters lurking in wall cavities, HVAC systems, and other home areas. Professional mold damage mitigation can prove safer and more effective for homeowners experiencing these disasters.
SERVPRO of Central Tulsa professionals use mold inspection, mitigation, and rebuilding services to return residential properties to a pre-disaster state per Institute of Inspection, Cleaning and Restoration Certification (IICRC) guidelines. Certified technicians use proper containment measures and personal protective equipment (PPE) to implement mold damage mitigation solutions in Central Tulsa.
Preventing Mold Damage Proliferation in a Residence
After discovering mold damage on a property, homeowners may be tempted to get right to cleaning. However, it is crucial to understand how mold grows and what conditions allow it to thrive before cleaning.
Lacking air circulation allows mold to spread freely. Sudden usage of HVAC systems can unintentionally circulate microbes to other areas of the home instead of getting rid of them
Elevated relative humidity, particularly over 50%, can accelerate mold damage growth. Pipe and supply line leaks, among other forms of water damage, can accelerate this
Porous organic materials like area rugs, drapes, clothing, wood, and drywall are particularly prone to microbial proliferation
SERVPRO mitigation services do not entail total mold removal, which is impossible. However, it is possible to return a Tulsa home to a clean, safe, pre-damage state that is free of malodors.
SERVPRO Mold Remediation Returns Homes to a Pre-Disaster Condition
SERVPRO mold damage mitigation technicians render a plethora of tasks that reduce microbes to normal levels for an indoor residential space. These activities include the following:
Setting up clean rooms for equipment decontamination, as well as sealing off affected areas with polyethylene sheeting. Mold inspection also detects areas with elevated moisture levels that aggravate microbial growth
Establishing negative air pressure with HEPA-filter air scrubbers traps microbes for more thorough spore remediation. A combination of dry and wet cleaning methods, as well as sanitation with EPA-registered biocides, allows for more rigorous mold damage remediation
Positioning air movers and dehumidifiers to reduce relative humidity to normal levels for a residential property slows microbial growth
Performing necessary drywall demolition, carpet and pad removal, and other disposal tasks with homeowners' permission. This process allows technicians to install new materials where needed.
Implementing odor control strategies that are tailored to affected surfaces. Mold odors can be quelled with solvent-based deodorizer solutions, time-release pellets, counteractant odor beads, and thorough HVAC cleaning, among other solutions.
SERVPRO's mold damage process emphasizes repairs and restoration over replacement wherever possible to help homeowners enjoy increased savings and an easier transition back to a clean, safe residence.
Homeowners can reach the SERVPRO of Central Tulsa crew at (918) 271-5922 for rapid-response remediation and restoration services after a disaster.